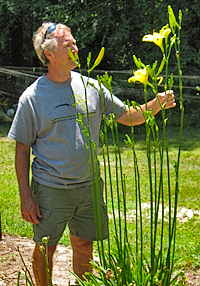 H. 'Reaching New Heights'
(Baxter, 2011)
H. 'Reaching New Heights' is not only one of my daylilies. "Reaching New Heights" is also a motivational statement and goal of Daylilies of North Carolina.
As a flower, H. 'Reaching New Heights', registered at 68", is one of the tallest daylilies of all time. The AHS Registration Database shows 43 registered cultivars of 68" or higher, and only 10 registered cultivars of 74" or higher. In 2010 & 2011, it exceeded 74" in my garden.
Motivationally, "Reaching New Heights" guides my hybridizing and passion for the daylily. As the leading hybridizer of high percentage (over 51%) polymerous daylilies with more than 20 registrations I am also an advocate of encouraging the promotion and advanced development of the form. By pricing my polymerous daylilies affordably and sharing information freely, I believe more daylily fanciers will grow & enjoy the polys, and more gardeners will be hybridizing them.
I also challenge hybridizers of the spider form of hemerocallis to work toward "eight-legged" spiders as genuine arachnids have.