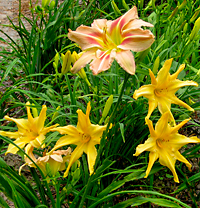 H. 'Secret Agent Babe'
H. 'Secret Agent Babe' is nearly 100% polymerous with 7½" blooms. In the picture above the blooms are 9 inches!! Imagine how big that beast is that is hovering over all the "babes!" Big just keeps getting bigger at Daylilies of North Carolina where size matters, too!
Daylilies of North Carolina is the leading hybridizing garden on the planet for the advanced development of the polymerous form of Hemerocallis. We continue to march forward with unequaled diversity of size, color, form, substance, rebloom, and all desired characteristics of polymerous daylilies!!
In addition to leading the Polymerous Revolution, our tetraploid breeding continues reaching new heights with incredible clarity of color, vibrance, and form. We are proud of our daylilies and strive to create flowers worthy of your garden.
---
Why multiple images of our flowers?

At Daylilies of North Carolina we are endeavoring to show multiple pictures of each flower on "individual cultivar pages." The picture above shows the cultivar page for H. 'Redefining Genetics' with 18 different images so that you can see the flower under different lighting, blooming, and environmental conditions. We do not want to post one "cover girl" picture that can misrepresent our flowers.
This website is a continuous work in progress and we started the individual cultivar pages with our own introductions. Please be patient as we continue the process by adding galleries of all the flowers growing at Daylilies of North Carolina.