Welcome to Brent Ross' Cottage Gardens...
2021 INTRODUCTIONS
MAUVE WITH A DARKER MAUVE RIPPLE PATTERN WITH A METALLIC LOOK TO IT. TET, SEV, MID SEASON,5.5" BLOOM. 33" SCAPES. 2 WAY BRANCHING WITH 12 BUD COUNT. ( RIPPLES AND REFLECTIONS X VICTORIAN GARDEN HEAVENS APPLAUSE) THIS ONE IS QUITE STRIKING AND VERY MUCH ADMIRED BY CUSTOMERS.
$125.00 SF VERY LIMITIED


COTTAGE BRIGHT EYES
ROSS 2021

ORANGE WITH A BRIGHT RED EYE, THIS ONE REALLY STICKS OUT IN THE GARDEN. TET, MID SEASON, DORMANT, 4.5" BLOOM, 26" SCAPES, 3 WAY BRANCHING, WITH 12 BUDS.
$25.00 SF

ORANGE WITH A RED EYE. DORMANT, MIDSEASON, 4" BLOOM, 22" SCAPES, TET, 3 WAY BRANCHING WITH 10 BUDS GREAT PLANT FOR THE BORDER.
$25.00 SF

RED WITH A LARGE GREEN THROAT. DORMANT, MIDSEASON, DIPLOID 8" BLOOM, 36" SCAPES, 2 WAY BRANCHING WITH 12 BUD COUNT.
$50.00 SF

YELLOW GREEN WITH A SMALL WHITE EDGE. DORMANT, DIPLOID, 7.5 " BLOOM, 35 " SCAPES, 3 WAY BRANCHING WITH 10 BUD COUNT.
$75.00 SF

Max enjoying the pond

Welcome to our website for 2021.

We are pleased to have 5 new introductions for the new year. We are currently growing over 4000 registered daylilies, including some of the newest ones available from many hybridizers, along with our own registrations. We grow a wide variety of forms and sizes, including round, ufs, spiders, doubles, minatures, toothy, stout award winners.

Our gardens are in two locations, the one at the house is lanscaped with other perrenials, shrubs, and trees. This is where most of the newest daylilies are located. We also have a gold fish pond and waterfall to relax by.


The other gardens are in the field in full sun. These are arranged in rows. We have a diploid, tetraploid, evergreen, Munson, and uf area.
| | |
| --- | --- |
| | The gardens will be open from July 5th through August 1st. We are a display and retail garden. We are open Tuesday through Sunday, 10 am to 5 pm. We are closed on Mondays. Other times by appointment. |
We ship plants from late April to late September. We ship anywhere in the US and ship by priority mail. Shipping costs are 14.00 plus .25 per plant.

Prices are for double fans unless there is a 'S' in front of the price, then it is a single fan.

Display plants are usually new plants or other plants that have sold down and need to be increase before we can sell them again. If there is any display plant you are interested in, I can give you a price if I have enough to sell.


Sebastian enjoys the birdbath
I look forward to your visits to the gardens this year.

Happy Gardening,
Brent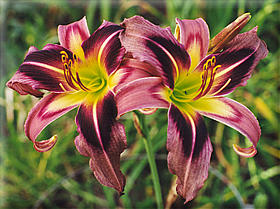 STARMAN'S QUEST
I enjoy your visits in our zone 5 garden.
Peak bloom is mid to late July. Please call to insure I will be there if you coming from a distance.